Our vineyards are located in the northern area of Marsala, approximately 30 meters above sea level and 2.50 km from the Stagnone Nature Reserve. The medium-textured Mediterranean red soils where the vines thrive are characterized by a high percentage of iron and magnesium, excellent drainage characteristics, and moderate fertility. The Grillo, Syrah, Merlot, and Perricone vines in Contrada Giardinello, as well as the Zibibbo in Contrada Dara, grow in territories with high biodiversity, ecosystems maintaining excellent vital balances of microflora and microfauna.
The climate is mostly mild and temperate, with a constant: the wind. Predominantly Scirocco or Mistral, often of strong intensity, while the marine breezes are gentle and uninterrupted. This factor is a useful ally for natural vine defense as it reduces the possibility of certain parasites, ensuring an adequate level of humidity in the air that prevents dangerous mold growth from the flowering period onwards.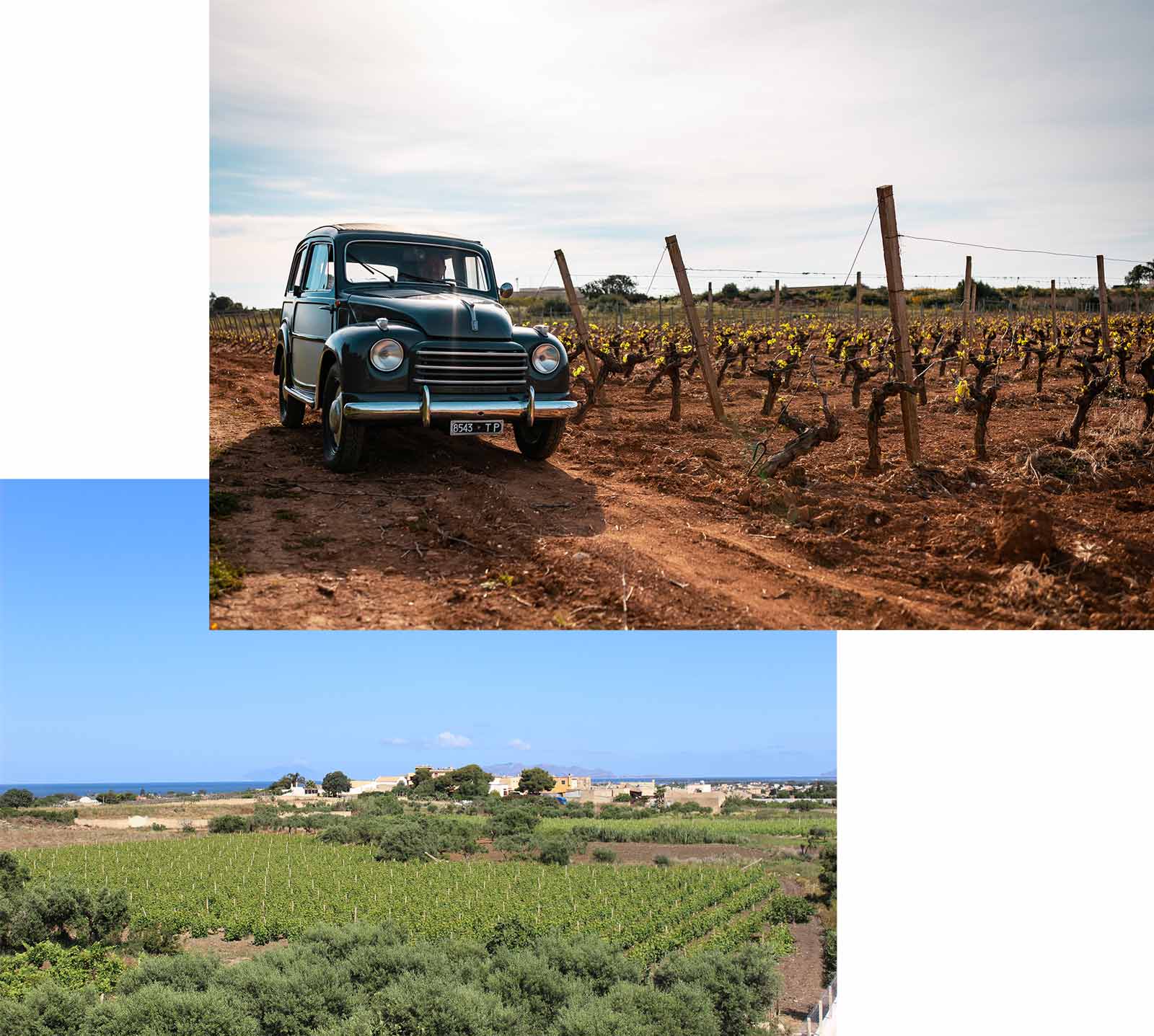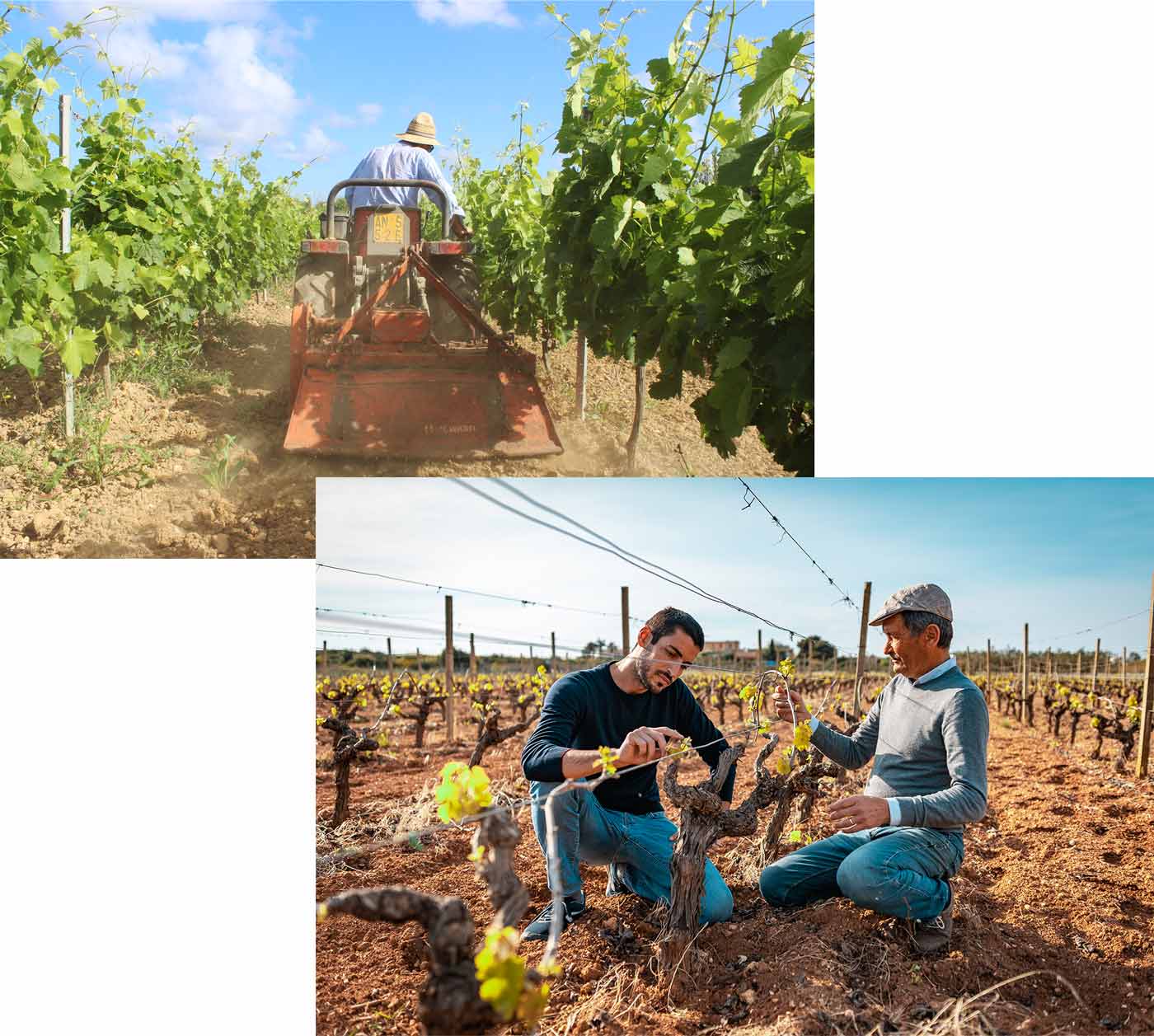 The Management of Vines and the Use of Sustainable Techniques
The vine management is carried out under the attentive and loving eye of Nino, a nature-loving agronomist. Our vineyards boast organic certification. The training system we use is the low espalier with the 'candelabra' pruning system, characterized by the simultaneous presence of 3-4 spurs and one fruiting cane. This vine branching ensures that the plant has greater vitality, and the production is distributed 'fan-shaped' for better exposure of the grapes to air and sun, synonymous with greater health.
Our vines have an average age of about 15 years, and their average productivity per hectare is approximately 80-90 quintals.

Harvesting takes place almost entirely in the month of August.
The exact moment of harvest is chosen by daily sampling of grape berries in the vineyard.
In the first decade of August, we harvest the grapes for sparkling wine bases; towards the end of August, we harvest the grapes for still wines; finally, in early September, we gather grapes for late harvest and for perpetual wines.
The harvest is strictly done by hand, each cluster is placed in crates and stored in the refrigeration room as quickly as possible to avoid the onset of uncontrolled fermentations and bacterial development.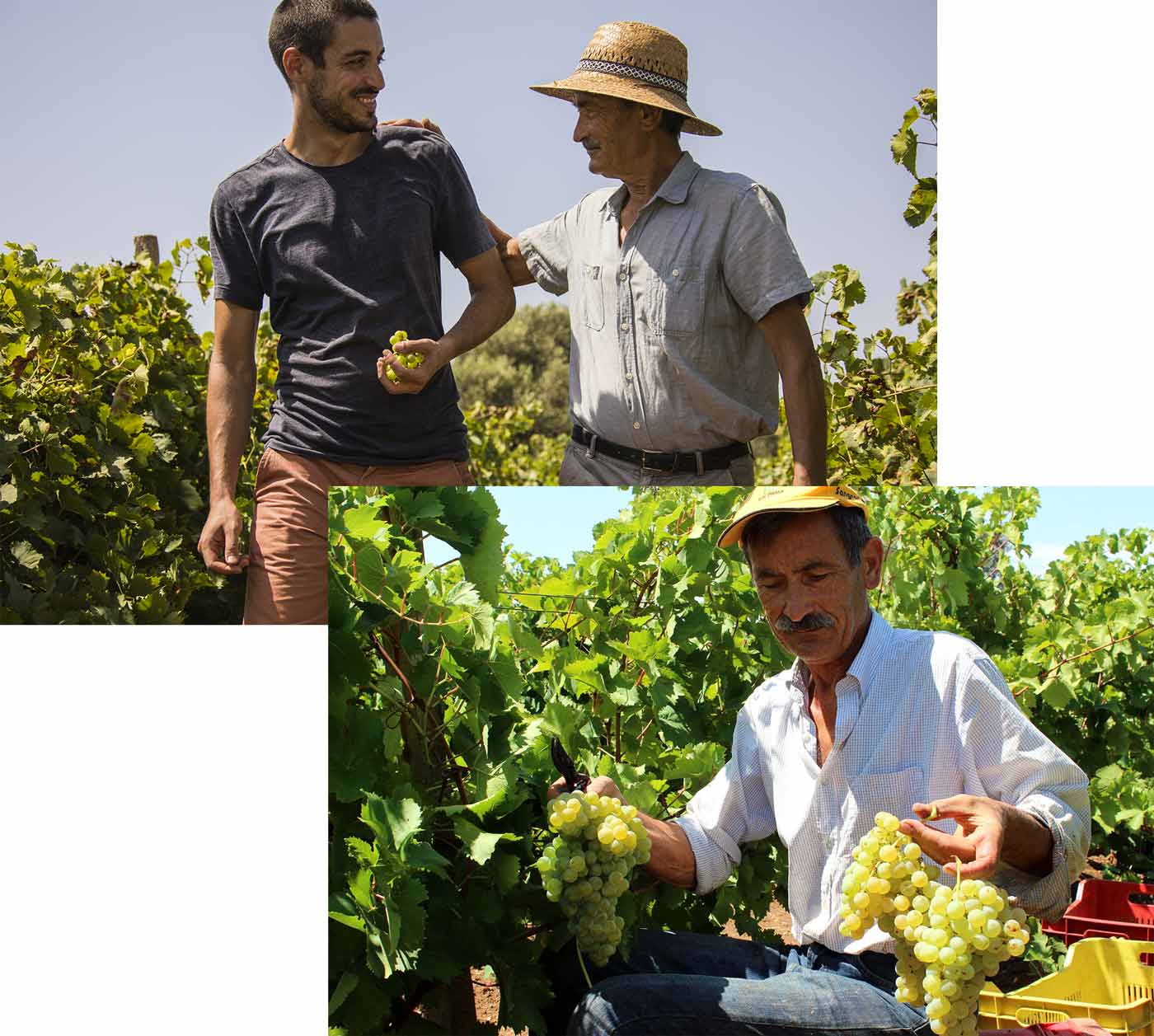 SUBSCRIBE TO THE NEWSLETTER
Do you want to receive information about offers tailored for you?
Do you work in the Horeca sector?
"Contact us to request information about our products. Monday to Saturday from 09:00 to 21:00.